At Your Dressmaker, we strive to offer our customers the finest selection of period clothing and accessories at affordable prices. While most of our items are handmade and created when we receive an order, from time to time we offer special merchandise in limited sizes, colors, and quantities. In our Deals section, you will find garments and accessories catered to popular historical periods such as the Medieval, Renaissance, Scottish, and Victorian eras. We often discover merchandise most suited for steampunk and gothic genres as well. Gowns, jackets, skirts, pants, and cloaks from every era, age group, and gender appear in this section. We also feature discounted accessories from our leather goods such as shoulder bags, belt pouches, and decorative buckle belts. Markdown items from our headwear, footwear, arm bracer, and jewelry sections are included too. At Your Dressmaker, we are always in pursuit of special offers and discounts for our fellow role players. We suggest that you keep a careful eye on our ever-changing sales section. It is certain you will find garments and accessories suitable for your historical wardrobe, while taking advantage of the amazing savings these deals provide.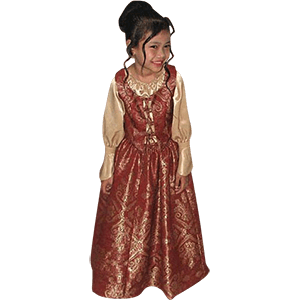 Read More
If you seek savings and special offers in childrens historical apparel, then you are in the right place. At Your Dressmaker, our goal is to bring you the highest quality period garments at amazing prices. That said, you should keep a close eye on this section. Markdowns, sales, and one-of-a-kind items abound here. We offer tunics, cloaks, ritual robes, tartan dresses, ball gowns, and more at unbelievable prices. Period clothing from a variety of historical themes appears here. While a many of our items belong to the medieval, renaissance, Scottish, and Victorian eras, you may see a few gothic and steampunk garments as well. Most of the items here arrive in limited colors, sizes, and quantities. So, take advantage of them before they are gone forever. Perhaps your son or daughter requires a renaissance outfit for a school play. Maybe they wish to participate in a medieval reenactment. Whatever their fancy may be, you can support their aspirations without putting an enormous hole in your wallet. For the proud parent who seeks to foster their young lad or lasses love for all things historical, but wishes to be thrifty about it, Your Dressmaker offers high quality gowns, capes, robes, and more at exceptional prices.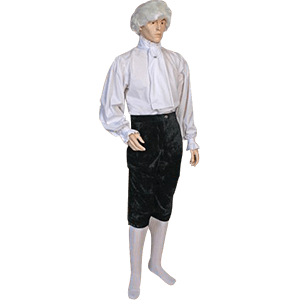 Read More
Your Dressmaker offers more than a great selection of historical clothing. We are constantly seeking to bring you special opportunities for savings. Our Deals section includes an ever-changing collection of mens period garments from your favorite historical eras such as the Medieval, Renaissance, Celtic, Victorian, Civil War, Viking, and Roman periods. From time to time, we discover items perfect for gothic and steampunk genres. You will find robes and caped hoods suitable for medieval and Celtic rituals. Our pants, trousers, and breeches go with a variety of looks and periods. A buccaneer may occasionally discover a discounted shirt perfect for a seafaring adventurer. A Scottish warrior may find kilts and scarves for highland dress. Specially priced jackets, doublets, frocks, and coats appear in this section as well. The special offers found in our deals section often come in limited sizes, quantities, and colors. Once they are gone, they are gone for good. So, if you are always on the lookout for savings, keep a careful eye on our ever-changing sales section. At Your Dressmaker, we not only devote our time to offering high quality items for historical roleplay, we seek to save you money in the process.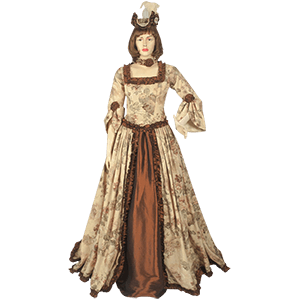 Read More
When visiting Your Dressmaker, do not forget to check this section from time to time. We offer special sales and discounts in womens historical clothing. Whether you are on the lookout for a fashionable renaissance gown, or a ritual robe for a Celtic or medieval ceremony, we are certain you will find something useful in this ever-changing section. The deals found here include period gowns, dresses, petticoats, cloaks, robes, and more in limited quantities, colors, and sizes. You will find special markdowns in medieval, renaissance, steampunk, gothic, Scottish, Celtic, and Victorian apparel. You may find a Scottish tartan dress at an amazing price. Maybe you will discover a luxurious hooded cloak that captures your fancy. You might even find that beautiful ball gown that you have been seeking. At Your Dressmaker, not only are we committed to creating the highest quality historical gowns and period apparel, we seek to bring you the best prices. So, keep a good eye on our discounts and deals section. Perhaps you will find that special item that will increase the authenticity and esteem of your historical role. Not only will you love the handmade garments that we create, you will be delighted by the savings we provide as well.